Embarkation day. Also known as day 1 of your cruise. If you're a first time cruiser there's a lot of uncertainty about what to expect. One question I'm asked by first timers is, "what time will my room be ready?" The answer may surprise you and will almost certainly lead to other related questions.
Unless you chose (or got stuck with) a late boarding time, chances are your room will not be ready when you get on the ship. Why? Because just like at a hotel, the staterooms have to be cleaned after the previous guests check out. However unlike hotels, the staterooms are all "unavailable" until they're all ready. So the answer to the "what time will my room be ready" question is difficult to answer but as a general rule, rooms are usually available any time between 1 and 2 o'clock in the afternoon.
Of course, there are exceptions, for example, suites are generally cleaned and re-set first so if you're staying in one of them, you'll be given access to your room earlier. This is one of the many benefits of staying in a suite.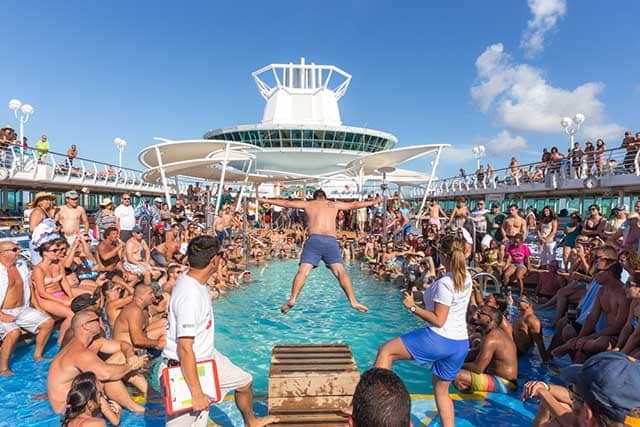 When people find out their room will be ready early to mid afternoon, there are usually follow up questions. Like Joe, a first time cruiser who called from the ship to ask about when his room would be ready, followed by, "Well, what do we do in the meantime?"
I can empathize with his situation. He's there with his wife, toddler, and mother in law, it's already been a semi-stressful day, he's unsure of what's available, and nervous about a potential temper tantrum (we were betting on who would melt down first).
I jokingly suggested they go to the pool deck where there would be plenty of entertainment, like people belly-flopping to the beat of music being played by a live band or DJ. As much fun as that sounds, I told him to avoid all the crowded spaces.
With most people waiting for their staterooms, the lunch buffet and pool areas are the two places I would avoid. There are plenty of other food options to hold guests over until things calm down and the buffet is less crowded. Depending on the cruise line, there are some priority boarding options available that include lunch in one of the specialty restaurants (like The Key on Royal Caribbean).
Another suggestion I made to Joe was to take some time exploring the ship. There are maps everywhere and on most cruise line apps that make it easy to find everything on board and get a general idea of the layout and what restaurants, bars, and activities are available.
I can understand the frustration of getting on board and not being able to get to your room, especially if you've got bags that weren't taken by the porters for delivery to your room, but like I said to Joe, "You're on vacation — enjoy yourself, take advantage of the time you have to explore, and your room will be ready before you know it!"