Being on Virgin Voyages Mermaiden sailing (October 6-10, 2021) was a privilege shared by less than 1,500 passengers and was my first cruise since the industry shut down due to the Covid pandemic. Adults only, check. Modern staterooms, check. Creative (and suggestive) entertainment, check. Beautiful ship, check. Amazing crew, check. Great food, check-ish. My first impressions of Virgin Voyages first ever cruise sailing in the US are mostly positive.
Prior to the cruise, the question I was most asked had little to do with Virgin Voyages as a brand and more to do with the safety of cruising as the industry restarts and what Virgin is doing to protect guests. Since I was on the Mermaiden (inaugural / first) sailing of Scarlet Lady in early October of 2021, the Covid procedures were strict. Guests (known as Sailors in Virgin language) had to be fully vaccinated (and prove it), be tested and negative at the pier, and fill out a health questionnaire before being allowed to board. Because of this, masks were not required in any setting onboard although some sailors chose to wear one. Crew members were all required to wear a mask.
Related: Cruising Unvaccinated. Yes or No?
Related: Five Things To Know Before Booking A Virgin Voyages Cruise
Related: Virgin Voyages Drink Packages
Covid protocols made the boarding process a little challenging, but all things considered, for the mermaiden voyage, it was a positive experience. Immediately obvious was the excitement from the Florida based port cruise who were all beyond kind, even by cruise standards. We were immediately put in a line and asked to register for our Covid test (which was free). A QR code and form were simple enough and within a minute the appointment was confirmed. Even with the large number of people, the test area itself was very well organized and again, within minutes the test was completed. Results were emailed quickly, mine came within 10 minutes, some people I was sitting near waited 30 minutes.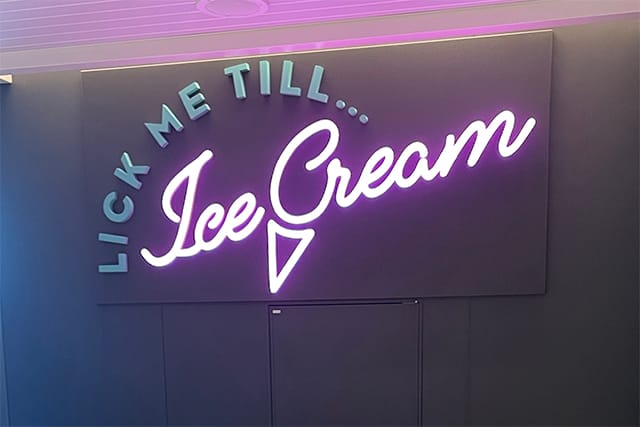 After the negative test result, we were ushered into the room where our wrist bands were activated and we were asked to fill out a health questionnaire. The technology made this step mildly frustrating, a theme I experienced throughout the cruise. The bands took a special mix of patience and luck to set up, as the health form wasn't populating correctly in the final "terms and conditions" approval. The staff did their best, smiled through it all, and made the process as fun as possible.
Since I had missed the "travel agent ship tour" a few weeks prior (Jen was able to go and for the record, I'm not jealous at all), I wasn't sure what to expect regarding staterooms, ship layout, food options (and bar options), entertainment venues, or how efficient the elevators would be (they're great, by the way) so I was boarding clueless (insert joke here). The "vibe" was completely different from every other cruise I've taken. On Virgin Voyages Scarlet Lady there wasn't loud window rattling music, a cruise director "getting the party started!", kids running around and being, you know… kids, or constant sales pitches from crew members trying to get guests to buy spa packages.
Instead, Virgin Voyages, which only allows adults 18+ only had classic rock playing at a volume loud enough to hear and quiet enough to hear the person next to me singing along, crew members giving directions to staterooms and other locations on board which was important considering this was the mermaiden voyage and very few sailors had been on board before today. The elevators were quick and very cool, the staterooms laid out in a logical fashion, and although the carpet and paint in the hallways were bland, Scarlet Lady had rebel touches and pops of creative color throughout.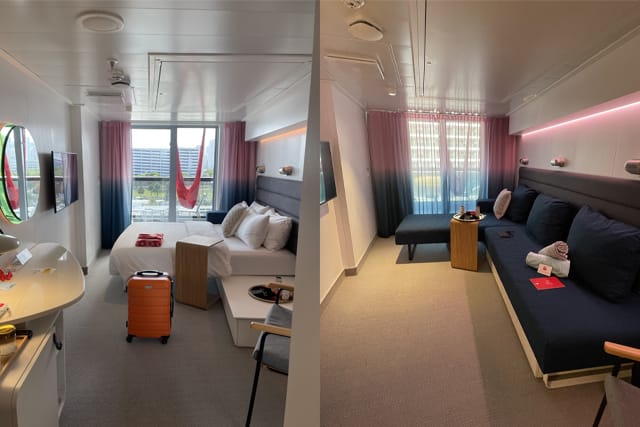 I stayed in a balcony stateroom which was roomier than the average, with a small bathroom but large and amazing shower. And the rooms are very tech forward — a tablet in the room controls temperature, lights, the curtains, and the TV. The same tablet also gives you a way to request towels, a bedding change, and report any issues being experienced in the room. The bed, which converts from a bed to a sofa — not a sleeper sofa — a comfortable bed AND a comfortable sofa. The balcony I had wasn't huge but was big enough for two chairs and a small side table.
Once settled, I decided to explore the ship and found the design of the ship — where everything is onboard — to be well thought out. Elevators are dark and mysterious with small overhead spot lights and they're either red or blue which are Virgin Voyages brand colors. On the back wall is a screen with animated bubbles, an unexpected and interesting addition; plus the elevators get to you and then take you where you want to go quickly. Perhaps it's odd to have a first impression of elevators but they stood out enough that I noticed.
There are plenty of food options, "The Galley" which I would compare to a mall food court, and sophisticated restaurants like Pink Agave (Mexican), Gunbae (Korean BBQ), Extra Virgin (Italian), The Wake (Steak!), and others. Virgin Voyages includes all the restaurants in their cruise fare, the ones I had a chance to eat at had "spoil yourself" options for an upcharge. The Galley food was less than impressive — in my opinion — but the "traditional" restaurants were all very good. There are random places to eat throughout the ship (such as the soon to be famous "Lick Me Till Ice Cream", and pizza, among others) that were all impressive in their own way. The bars are plentiful and each have their own vibe and selection of drinks which range in price. As with every cruise I've ever been on, the crew members (wait staff and bartenders) make the food experience and on the Mermaiden sailing, Virgin Voyages crew were all spectacular in both service and personality.
Related: Fine Dining Options on Virgin Voyages Scarlet Lady
Related: Is The Food On Virgin Voyages Good?
The entertainment onboard was either amazing or so-so, and in many cases takes full advantage of the adults only environment with costume design, content, and sets / props. For me, there was one spectacular show, Duel Reality, which I won't spoil, but it's very well done and if you're on board you need to check it out. Also on the good side of the spectrum was a "sex doctor" onboard which was a fun show, risque to the max without being obscene, and had plenty of fun audience participation. There were also some "game shows" which were hit and miss, and one of my favorite onboard activities: trivia.
Virgin Voyages has been marketing themselves as rebels in the cruise industry and that was absolutely my takeaway. They do a lot of things differently — some with good results, some that need to be retooled or at least improved — but for an inaugural sailing, what they have to offer (adults only, tips / basic beverages / WiFi included, and all the restaurants included) the price is fair and the experience is different than any other cruise I've been on — in a decidedly good way.
Need help planning a Virgin Voyages cruise? Let an expert help you. Call Joel (844-483-6669).