Vaccination requirements on Carnival Horizon sailings in July and August of 2021 have been released. Originally Carnival planned to require all guests and crew to be fully vaccinated so families with young children would be unable to sail from Miami this Summer.
Related: Carnival requiring vaccinations to sail from Miami Summer 2021
Related: Find the best deals on Carnival Horizon Cruises
Official update: Vaccination requirements on Carnival Horizon:
Vaccines – All guests and crew will be fully vaccinated. A few guest exemptions will be allowed. Information on vaccine policy.
Modified Itinerary – The July 4 and July 18 6-day cruises will operate a modified itinerary calling on Amber Cove, Half Moon Cay and Bimini, Bahamas. We will operate the scheduled itineraries for the July 10th and July 24th 8-day cruises.
Exemptions – There is an exemption process to accommodate a small number of guests who are unable or ineligible to be vaccinated (children under 12 and other exceptions as required by federal law). The current standard to meet the CDC's criteria for a fully vaccinated cruise – under which guests can sail without a mask and other restrictions – is that at least 95% of all guests on board are fully vaccinated.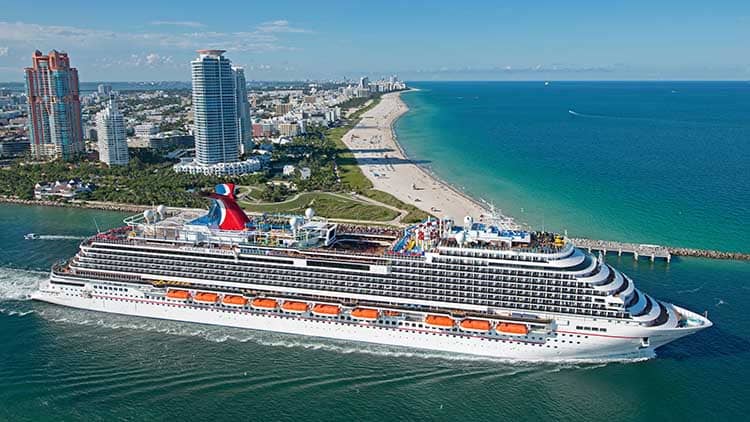 The question many people have is relating to Carnival's decision to provide what they're calling an exemption to their original policy of not allowing unvaccinated children on board Carnival Horizon during the Summer months of 2021. Todays announcement relating to vaccination requirements on Carnival Horizon seems to leave some wiggle room allowing a small percentage of unvaccinated guests.
For guests under 12 who are not eligible for the vaccine, people with a medical condition preventing them from receiving the vaccine, or people who object to the vaccine on religious grounds, one thing is certain: the exemption must be requested after final payment has been made and granted before the sail date and will most likely be processed as they are requested until the 5% threshold is met. If the exemption is not granted, a refund will be given.
How will the vaccination requirements on Carnival Horizon impact the cruise experience?
The following will apply to all unvaccinated guests:
Testing
All unvaccinated guests will be required to submit at embarkation the negative results of a PCR COVID-19 test taken within 72 hours prior to embarkation.
As per the Centers for Disease Control & Prevention (CDC) guidance, unvaccinated guests will also be required to be tested at embarkation (and debarkation if the cruise is longer than 4 days). The cost of testing and administration is US$50, per person, which we will waive for guests sailing in July and August.
Any guest who tests positive at embarkation –along with their traveling companions –will not be able to join the ship and will be provided a future cruise credit.
Guests who test positive and have flown in for their cruise may be required to quarantine locally. Although Carnival will secure lodging, any expenses will be the responsibility of the guest.
Additional COVID-19 tests may be required by the destinations we visit prior to debarkation at the port of call.
Mask wearing
Although generally not required, it is recommended that unvaccinated guests wear masks on board.
However, all unvaccinated guests must wear masks in the following instances:

In the terminal during the embarkation and debarkation process, during water shuttle operations, and on shore excursions.
The following indoor areas: kid's club, arcade, medical center, and in spa areas (including treatment rooms).
Shore visits and excursions
Unvaccinated guests will be limited to Carnival-approved tours and will be unable to carry out self-guided or independent exploration. These guests will also need to follow local guidance regarding testing/screening, mask wearing and physical distancing and organized tours/activities.
In private ports of call or port-controlled areas, unvaccinated guests may participate in self-guided or independent exploration.