Having recently embarked on my annual family vacation, aboard the Norwegian Epic, I've returned with quite the tale to tell. While the experience had its ups and downs, it certainly left a lasting impression.
Norwegian Epic At a Glance
Enveloped in the initial euphoria of "hooray! I'm on a ship!", my first impression of Norwegian Epic was positive. Housing 4,228 passengers and 1,730 crew, the vessel is pretty big especially considering her age. Though built in 2010 and refurbished in 2015, she is a well-maintained matron of the sea.
Navigating the ship proved intuitive, with entertainment venues up front and most of the restaurants at the back. The exception to my "fun in the front, food in the back" rule is the Garden Cafe' (the buffet on Norwegian Epic) which is located on deck 15 mid ship / front. A drawback, however, was the shortage of seating around the ship, mostly at the bars and around the pool.
Home on the Ocean: Stateroom Insights
My family and I called stateroom 13150 home, a category BA balcony room. Spacious for a ship stateroom, this particular stateroom had a larger-than-average balcony that added a wonderful sense of freedom. Because there were three of us in the room, when the sofa was converted into a bed, the space felt a bit tight.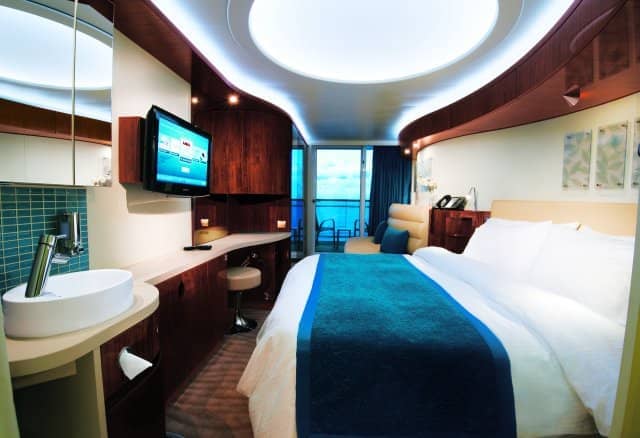 An odd design choice is having the shower and toilet on separate sides of the room with the door to the hallway in between for space to dry off. A curtain sectioned off the shower and toilet from the sink and the rest of the stateroom. It's not your typical layout, but there was a silver lining – the shower and toilet spaces were slightly larger than those I've encountered on other ships. Don't worry, when you book with JJ Travel Associates, I'll ensure you're well-prepared for the unique quirks of ship life.
A Feast for the Senses: Dining on Norwegian Epic
From the elegant Manhattan Room to the delightful Shanghai's Chinese Restaurant, dining options on the Epic are numerous. However, my experience with the food was mixed. Taste, one of the main dining rooms, along with the Manhattan Room, often left my taste buds wanting more.
Cagney's Steakhouse, a specialty dining venue, stood out with its delightful meals and Teppenyaki (pictured above) was a fun evening with entertaining chefs who make good food. However, the real surprise was the Garden Cafe. Their breakfast and lunch buffet options exceeded my expectations for what cruise line buffets usually are.
One evening at The Manhattan Room, we were turned away because it is one of two restaurants onboard (the other being Le Bistro) with a business casual dress code. Meaning, men have to wear long pants to dinner. The staff was kind about my faux pas, but we ended up eating at O'Sheehan's that night.
Usually, my highest priority on day one is to figure out which bar I'm going to frequent. There are a lot of good ones on Norwegian Epic but I found it difficult to find one that gave me the "everybody knows your name" vibe because of the hours they were open, available seating, and the amount of time spent off the ship.
My go to bar ended up being the Atrium Bar, but mostly because of it's operating hours and generally short wait time. But other than the handful of stools at the bar there were only four or five chairs nearby. It was by the atrium where there are a lot of seats, but there is often an activity in the atrium making it a less than ideal spot to sit and visit with friends or read a book.
I did have a few drinks at Wave's Bar on deck 15, but seats under the canopies were always taken or reserved, and it was very hot sitting in the sun, so I didn't spend much time there.
I saw quite a few people walking around with scotch and bourbon cocktails so I asked one of them to show me the way to th​e next whiskey bar. Maltings Whiskey Bar was another place I had a couple drinks and even though there were a few more chairs in the area, it's only open in the evenings and the chairs were usually taken. Nearby was Shaker's, a martini bar, that had plenty of seating but not very good operating hours.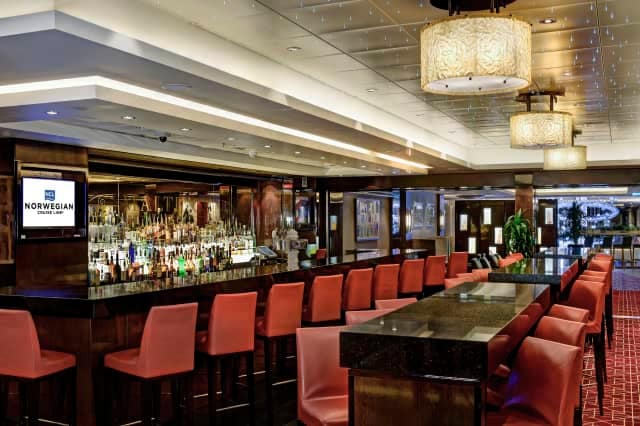 I did have a great time at a martini tasting event, though. On the one sea day in this itinerary, Shaker's had two activities before their regular hours: a mojito tasting and a martini tasting. I'm not one for mojito's but I do like martinis! So I decided to pay the $20 and spend an hour drinking mini cocktails.
The bartender spoke about the history of the martini, explained numerous variations, taught people how to order properly or at least answer questions to receive what you think is best tasting drink. And, of course, there were plenty of drinks to try. Three variations with gin and three with vodka. Some I liked better than others, but never one to waste a drink, I did finish them all (along with a few that other people didn't care for and passed my way).
Entertaining Nights, Bright Days
Entertainment can be subjective, but personally, I found the production shows to be enjoyable. What's interesting about cruise entertainment is the productions are fairly consistent and don't change, but the musicians who play around the ship and have scheduled shows change regularly because they have shorter contracts.
On our cruise the short contract musicians were more "miss" than "hit" but, again, it's subjective, and at any point, all those entertainers could be off the ship and new ones will be on. It's not really fair to judge Epic by these entertainers.
I'll lump all the other onboard activities in this section, too. Because of the itinerary (at least that's my guess) I felt there were much fewer activities onboard. The standards like bingo, Deal or No Deal, a wacky couples game, and trivia were going on. There were future cruise presentations about the various ships in the fleet and destinations, and even a Q & A session with officers who answered questions about the logistics of managing and operating a cruise ship.
NCL Does have a youth program, and I'm sure it's good, but my daughter has never been interested in doing those activities so I can't comment on those activities, but I've heard from clients and other travel agents that the kids and teens programs on Norwegian are well run and a lot of fun so there's no reason to think it wouldn't be the same on Epic.
Quality Service with Room for Improvement
Customer service was consistently friendly and efficient. The restaurant and bar staff, despite being slightly short-staffed, managed to offer competent service. However, I noticed a dip in housekeeping quality since the pandemic, with rooms serviced only once a day and not at a consistent time.
Would I Recommend the Norwegian Epic?
Despite its quirks, Norwegian Epic could be the perfect choice for certain travelers. If the ship's itinerary aligns with your desires, or if the price or promotion offers significant value, I would definitely consider it. When you're my client my priority is to tailor your travel experience to your needs and wants. Sometimes that will mean sailing on Norwegian Epic is the best option for you and others cruising on a different ship in the Norwegian fleet may be the answer.
Looking Forward to Your Next Adventure
A cruise on the Norwegian Epic or another ship will offer an adventure full of surprises, unique experiences, and lifelong memories. My role is to help you navigate through it all, ensuring your voyage is smooth sailing from start to finish.
If you're ready to begin planning your next adventure, call 844-483-6669 or book online. Either way, I'll use my firsthand experience and every ton of knowledge I have to ensure your trip is as Epic as the ship you'll be sailing on!