Royal Caribbean announced that the Majesty of the Seas and Empress of the Seas have been sold and will be exiting their fleet. As a result, all sailings on the two ships between March 2021 and April 2022 have been canceled.
Related: How to redeem future cruise credit
Related: Cruise with Confidence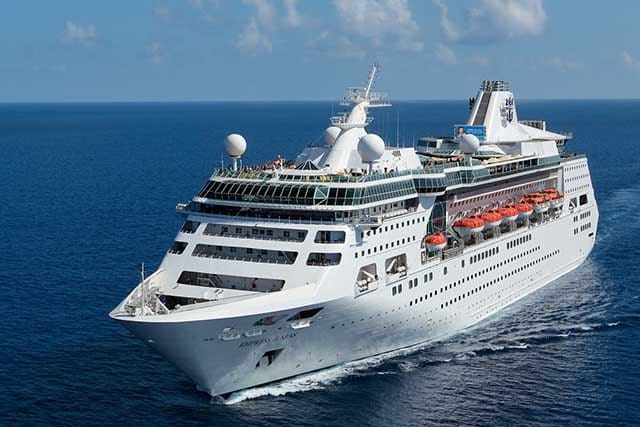 Today is a bittersweet day for Royal Caribbean as we announce that two of our fan favorites, Majesty of the Seas and Empress of the Seas, have been sold and will be exiting our fleet. For three decades, both have been trusted members of the RCI family, sailing a variety of itineraries and making endless vacation memories for our guests and crew. As a result of this news, all sailings departing March 2021 – April 2022 will be canceled.

Royal Caribbean
Majesty and Empress of the Seas were smaller ships in the Royal Caribbean fleet but each had a great history. Empress, launched in 1990, was the first ship designed for 3-4 night cruises sailing to the Bahamas from Miami. She also was the first ship to sail out of Bayonne, NJ when that port opened in 2004, then made history again as the first Royal Caribbean sailing to Cuba. Majesty, launched in 1992, was, at the time, the biggest ship in the Royal Caribbean fleet!
The Offer:
125% Future Cruise Credit: To be used by April 30th, 2022.

This amount is based on the total cruise fare paid.
Future Cruise Credit will automatically be sent via email by January 22, 2021.
Taxes & fees and any RoyalUp upgrades will be automatically refunded. Current refund processing is around 45 days.
Customers who opted into the Cruise with Confidence 100% Future Cruise Credit, this offer does not apply.

If a Future Cruise Credit (including previous Global Suspension FCCs) was previously used, the customer will receive a new Future Cruise Credit. This will be for 125% of any new monies paid on this sailing, plus the value of your original credit at 100% of its value, with an expiration and sail by date of April 30, 2022.
If the customer was already impacted by a sailing that was previously canceled due to a global suspension and paid additional monies on a new booking within this extended suspension period, you are still able to opt in to refund one or both canceled bookings via the process below.

100% Refund: Customers have until March 31, 2021, to request a refund and deactivate their certificate.

To get the refund process started, click here. Note: Please know, once we receive the refund request, we, unfortunately, won't be able to accept an FCC request if the customer changes their mind.
Future Cruise Credit will be deactivated and refunds processed to the original form(s) of payment, which will include any non-refundable deposits.
Customers can expect to receive their refund 45 days after the refund request is submitted.
Please note: If a Cruise with Confidence certificate was used on this sailing, and a refund was requested instead, Royal will refund any NEW funds paid above the certificate amount, and reinstate the original Cruise with Confidence certificate.

Guests with air or hotel booked:

Refundable air or hotel accommodations purchased through Royal Caribbean will be automatically refunded within 45 days after we process the cancellation.