If you believe the hype, the food on Virgin Voyages is spectacular. Of course, until October 6, 2021, hype was all we had to go by. Fortunately, I just got off the Mermaiden (inaugural) sailing of Virgin Voyages Scarlet Lady and I can tell you that, in my opinion, some of the food on Virgin Voyages lives up to the hype and exceeded my expectations, other options didn't even come close.
Related: Five Things To Know Before Booking A Virgin Voyages Cruise
First, you should know that on Virgin Voyages, food from 20ish eateries / restaurants is included in the price of the cruise. From fine dining restaurants (which are fantastic!), to the cleverly named Lick Me Till Ice Cream gelato stand, there is something for every taste bud on Scarlet Lady. Some of the eateries are part of The Galley which reminds me of a mall food court but with wait staff who take your order and deliver food to your table while other options are spread out through the ship. An important note about the food options: the kitchens are not allergen-free but are as accommodating as possible with specific dietary needs.
Related: Virgin Voyages Drink Packages
The Burger Bar
Located in The Galley, the Burger Bar is, for me, the most disappointing food on Virgin Voyages Scarlet Lady. It's described in the app as a burger at every time of day and mood. It's true that there are breakfast burgers in the morning, lunch burgers in the afternoon, and dinner burgers, but the description is misleading. Burger Bar is open off and on throughout the day so you have to check the "opening times" on the app to know when you can satisfy your burger craving. When I heard there is a restaurant called Burger Bar I have expectations. I expect to be able to order a variety of burgers with various toppings or at least add them myself. Neither is possible at this burger joint. There are two options: Impossible Burger (with swiss, tomato, spicy aioli) which is vegetarian and the Classic which is a burger with American cheese, lettuce, and tomato. That's it. To be fair, the burger was good, but if you want onions, bacon, hot peppers, BBQ sauce, or anything else on your burger? Sorry.
For breakfast you can order a French toast burger which is delicious. What's not to love about a burger topped with bacon, egg, and American cheese between two slices of French Toast? Other breakfast options include buttermilk pancakes with blueberries and whipped cream and French toast with berried and powdered sugar.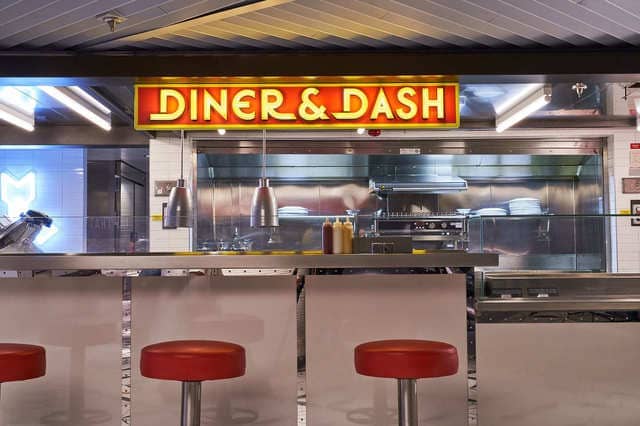 Diner & Dash
Described by Virgin as a 24-hour-a-day classic American diner, this restaurant, also in The Galley, isn't open 24/7 (but it's close and most people on board aren't impacted by the few hours it's closed). The "all day" omelette's are tasty and like a classic diner, there is a "build your own" option with the classic choices. Whether I wasn't there at the correct times or it was a function of being the inaugural cruise, lunch and dinner options were limited to one option and it wasn't something I wanted. Fortunately there were numerous other options for food on Virgin Voyages.
The Daily Mix
The Daily Mix is the healthy choice in The Galley. In the morning it serves yogurt and oatmeal dishes (which Jen said were delicious), bagels (with toppings and spreads), and cereal. In the afternoon and evening The Daily Mix is where you find soup and salad in the afternoon and evening.
The Sweet Side
The perfect foil to the healthy Daily Mix, the Sweet Side serves pastries for those who love a sweet breakfast and various desserts throughout the rest of the day. If you have a sweet tooth, this will be one of your favorite places to eat.
Bento Baby
Bento Baby is a true grab-and-go option for Japanese breakfast (and lunch) boxes. Since I didn't have a chance to try this the first time, it's on my list for my second sailing. Stay tuned for an update.
Well Bread
As the name implies, Well Bread serves a variety of croissants, pastries, and flatbreads in The Galley.
Hot off the Press
Also in The Galley, this sandwich stop is a great choice for food on Virgin Voyages. Choose from breakfast themed sandwiches (like the PB & J grilled cheese) or pop in for a evening-inspired sandwich.
Noodle Around
With all the food on Virgin Voyages there just wasn't enough time to sample everything but Noodle Around, featuring Ramen and Miso Soup is the first thing I'm trying when I get back on Scarlet Lady. Open for breakfast, lunch and dinner, choose from the vegetarian option Miso Udon, to Tonkotsu or Spicy Tonkotsu Noodle Around brings international flavors to The Galley.
Lets Taco Bout It
Another international option in The Galley, Lets Taco Bout It reminded me of food-truck fare. Burrito's and tacos with breakfast ingredients in the morning (Yum!) and delicious lunch and dinner options, too. If you love tex-mex you won't be disappointed with the flavors at Lets Taco Bout It
See? Lots of options in The Galley when you want food on Virgin Voyages. What happens when you're out and about exploring the ship and you're overtaken by hunger? Never fear! There are plenty of places to grab a bite on Scarlet Lady that aren't located in The Galley.
The Dock & The Dock House
The Dock, located on deck 7 Aft is a great place for outdoor eats (and a cocktail or two) when you want to kick back and relax. The Dock features Mediterranean mezze-style bites and flame grilled meat skewers an features the same menu as it's indoor counterpart, The Dock House. While The Dock provides sun (and shade if you choose) and a breeze, the Dock House is elegant but cozy and features acoustic live sounds as the backdrop for your delight.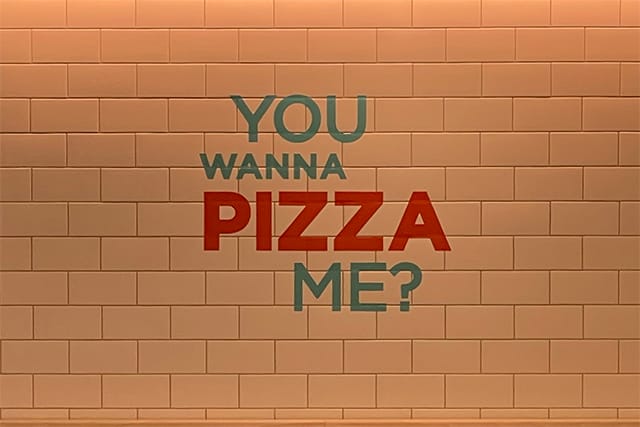 The Pizza Place
Located on Deck 7 Mid, the Pizza Place does pizza the Virgin way — made to order and no heat lamps! — the space itself puts you in "beach mode" and the pizza sells itself. The raves on board Scarlet Lady were all positive and there's no need to wonder why: design your own pizza, or order off the menu and choose a classic or gourmet option. We had a great time sitting near the "kitchen" and watching the crew make everything by hand, one at a time.
Lick Me Till Ice Cream
This clever little ice cream shop located on Deck 7 Mid features six flavors and even though I don't have a sweet tooth, I tried most of them and everything I had was tasty! By the way, Lick Me Till Ice Cream is host to "Scoop, There It Is!" a gameshow that takes place throughout the cruise so it does double duty as a spot for food on Virgin Voyages and a great place to catch some entertainment.
The Social Club Diner
Also on deck 7 (Mid-aft), Social Club Diner is a modern take on a classic: the soda fountain. Enjoy a float or shake, a hot dog (reuben hotdog… Mmmm), or a pretzel with green chili cheese. The Social Club Diner is also a great place to hang out with new and old friends and play (or laugh at others playing) air hockey, foosball, and other games.
Sun Club Cafe
Head up to Deck 16 forward and enjoy the sun… And Hawaiian inspired dishes that are fresh, tasty, and healthy. Choose a poke bowl with salmon, tuna, chicken, or choose a vegetarian option inspired by the most iconic dishes in the Hawaiian islands.
With all these choices, there is something for every palate, and it's all included in the cruise fare. Whether you want to sit down at a formal restaurant, relax in the sun, grab something quick, or satisfy your sweet tooth, the food on Virgin Voyages Scarlet Lady is plentiful, creative, and delicious.
Ready to plan your next getaway? Call Joel (844-483-6669) for free unbiased information, advice, and assistance.