Royal Caribbean has announced health and safety protocols for Independence of the Seas cruises this August (2021) sailing from Galveston, Texas. Royal Caribbean is adapting to quickly changing data driven rules and regulations and with this announcement have shared the current pre-boarding criteria and what guests can expect when sailing Independence of the Seas in August.
Related: Shop cruises onboard Independence of the Seas
Before we welcome booked guests back onboard with open arms this August, we would like to share some important details with you. The information below applies only to sailings departing from Galveston, Texas on Independence of the Seas this August. We will continue to update these protocols as public health situations evolve.

Please note that health protocols are expected to change over time. Guidance for other ports and sailings is still in development with federal, state, and local authorities.

Royal Caribbean
Vaccination Requirement for Independence of the Seas – Galveston, 2021
All guests 12 years and older are required to bring proof of vaccination, such as the U.S. Centers for Disease Control and Prevention's (CDC) COVID-19 vaccination record card, with the final dose of the vaccine completed at least 14 days before sailing.

Covid-19 Testing
At the terminal: Unvaccinated guests ages 2 to 11 years are required to take a PCR test for COVID-19 when checking in. Registration details for this test will be sent via email in advance.
Prior to disembarking: Unvaccinated guests ages 2 to 11 years are required to take an antigen test onboard Independence of the Seas within 24 hours of the end of voyage. Vaccinated guests who require an antigen or PCR test for entry into their destination country may receive one onboard at no charge. Registration details will be provided during the cruise.
Both of these tests are complimentary. No testing is required for guests under age 2 years.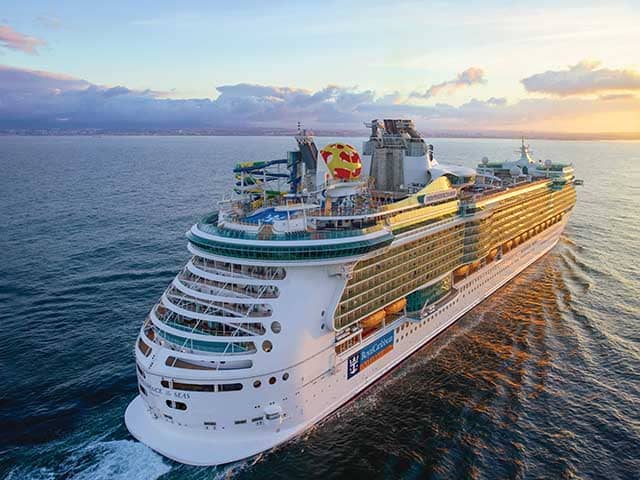 Going Ashore
At ports of call, fully vaccinated parties have the choice of booking a shore excursion or visiting freely. Parties that wish to go ashore and include any unvaccinated guests, including parents traveling with unvaccinated children, must book a shore excursion through Royal Caribbean that is provided by an independent local tour operator that has agreed to comply with recommended health protocols. Vaccinated parents wishing to go ashore freely can visit our youth facilities once onboard to learn about drop off program hours and availability, and reserve time for their child on the day they wish to go in port.
Shore excursions may be purchased in advance or onboard Independence of the Seas. All guests are also subject to restrictions and requirements as defined by local authorities in the ports.
What to Expect Onboard Independence of the Seas
Please note, a SeaPass card will be required to access lounges, shows, and dining venues, so it's best to keep it handy at all times during the cruise.

Face Masks and Physical Distancing
When indoors, CDC guidelines require all guests 2 years and older to wear masks unless they are actively eating or drinking. The CDC makes allowances for guests to remove their masks in venues and events dedicated to fully vaccinated parties. Since so many guests will be vaccinated, there will be plenty of these opportunities.
Masks are not required while in a guest's own stateroom when with their traveling party or outside on the open decks, unless in a crowded setting. Updates will be shared as changes to the CDC mask guidelines occur.
Guests will find the boarding process and entire ship set up to allow for physical distancing, which is encouraged whenever interacting with those outside of a guest's traveling party.
Dining
For Main Dining on Independence of the Seas, Royal Caribbean will designate areas for everyone, including parents and unvaccinated children, and areas for vaccinated parties only. My Time Dining will not be available to parties that include unvaccinated guests.
Some specialty restaurants will be open to everyone, while others will be for vaccinated parties only. If a buffet is preferred, Windjammer will be open to everyone for breakfast and lunch, and the food will be served by our crew. Reservations are suggested.
Other Venues
Theaters and activity venues will offer spaced seating with options for everyone and for vaccinated guests only. Show reservations can be made once onboard using the Royal Caribbean app.
Youth spaces will be open to all children and teens.
Spa services, except those offered in treatment rooms, are available to everyone.
The Fitness Center will have dedicated operating hours for everyone, as well as hours reserved for vaccinated guests only.
The Casino will be open to vaccinated guests only.
What to bring on Independence of the Seas
A Passport Book or Passport Card, valid for at least six months after the cruise, is strongly recommended. If guests do not have a Passport, they may present a state-certified U.S. Birth Certificate (not a "baby feet" hospital certificate or baptismal paper). Guests age 16 years and older that choose to present a Birth Certificate will also need to provide a valid Driver's License or picture ID card issued by the government.
A COVID-19 vaccination record card for each vaccinated guest with the final dose at least 14 days before sailing.
Ready to begin planning your next vacation? Do it with the (free!) assistance of a travel agent dedicated to saving you money, getting you more perks, and eliminating vacation stress so you have more time for fun! Call Joel (844-483-6669).