Considering a cruise for your next vacation? If you've been looking you know between cruise lines, ships, and itineraries there are literally thousands of options. The "big six" (Norwegian, Royal Caribbean, Celebrity, Princess, Carnival, Disney, advertise regularly and each is a perfect match for a specific guest, but none are good for everyone. They each run their own promotions, and Norwegian in particular leaves a lot of people wondering what Free at Sea is really about. Take for example the free extra guests, or kids sail free promotion.
Related:Free at Sea: Free Shore Excursions
Related: Free at Sea: Free WiFi
Related:Free at Sea: Specialty Dining
Related:Free at Sea: Open Bar
Related: Free at Sea: Second Guest Flies Free
Norwegian is a great cruise line, but their Free at Sea promotion can be confusing and difficult to understand. Being the skeptic I am, I decided to plan a cruise for a fictional client, Mr. and Mrs. Fake and Pretend Customer and their two children, Fictional and Phony. If there is any funny business going on with the free extra guest promotion, I was going to find out. Spoiler alert, it's a great, money saving promotion. Pretty much end of story.
I decided the best way to begin was with a find a cruise for two passengers so I could make note of the total and lead pricing, taxes and port fees, and Open Bar and specialty dining taxes. That would give me a solid idea of how the price would change when adding those free extra guests. I chose my date and the family balcony category figuring it would only be fair if I was able to get the same type of room in both cases.
As a side note, the overall price of your cruise may be more expensive with four people in a room (even when kids sail free) because not every category (price point) can accommodate more than two people. A little research, or a little help from a travel agent will help. Give me a call: 844-483-6669.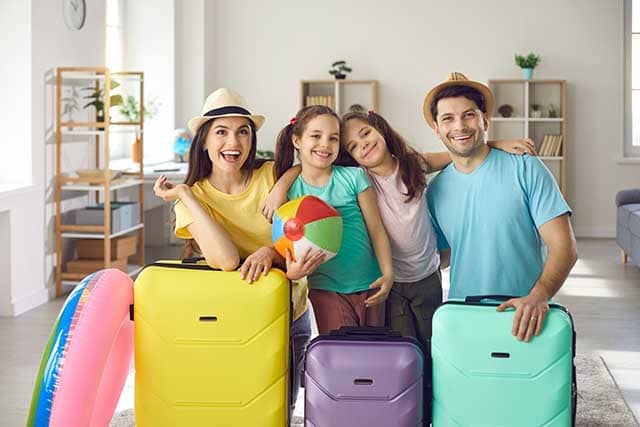 With that information noted, I revised my search to include 4 guests. At this point Fictional and Phony are assumed to be adults so they'd be "free extra guests," I guess. What I found was not shocking. The prices for Fake and Pretend as passengers 1 and 2 didn't change but the cruise price (before taxes and port fees) for Fictional and Phony was $687 each. Hardly free. Ah ha! Got 'em!
Not exactly. The free extra guests offer was not available on this particular sailing date. A quick scan of the terms and conditions confirmed that the promotion is only valid on select sailings. I must have experienced some bad luck on my first try. So I tried another. And another. And another. You get the idea. None of the dates I was selecting qualified for the promo.
Have flexible travel dates or itineraries should be your takeaway if you're planning to take advantage of the free extra guests promotion. The Customer family was flexible with their travel dates, not the itinerary, so it took me a number of tries to find one where the kids sail free. I did find one though.
Once I found a date that worked, I did the same thing. Chose family balcony with 2 guests and wrote down all the numbers then added the kids. At this point in the process no names or ages were involved, so the prices were initially for 2, then 4 adults in a family balcony. That might seem trivial, but you'll see why it's important in a moment.
Taking advantage of all the Free at Sea promotions, the price of the cruise for Mr. and Mrs. Customer stayed the same in both examples. The price of the cruise for the kids was, in fact free. But, of course, the taxes and port fees get added to every passenger, so the cruise fare was free but the port fees (same as passengers 1 and 2) had to be paid. Also added to the cost of guests 3 and 4 (as adults) was the taxes/gratuities on the Open Bar. Interestingly, the gratuities for specialty dining didn't get added to Fictional and Phony's price. The reason? Specialty dining as part of the Free at Sea promotion is only for the first and second passenger while Open Bar is added to all adults in a stateroom. Once I added the ages, the taxes for Open Bar dropped off because the two kids are minors.
My detective work proved the free extra guests / kids sail free to be a great promotion as long as you're flexible with your travel dates and/or itinerary. This Free at Sea perk isn't always available even though the others are. Occasionally NCL will run a sale that includes a discount on additional guests, usually it's $99 for guests 2 and 3.
If you're on the fence about when to book a cruise with Norwegian, and the free extra guests / kids sail free promotion is in effect, make sure you take advantage of it because as mentioned, it comes and goes faster than skinny ties come in and out of fashion.