Cabo San Lucas is a city on the southern tip of Baja California, a Mexican State. Home to white sand beaches, world class fishing and snorkeling, as well as more night life then you could ever want, Cabo has something for everyone!
In 2021, there are two things people are concerned about when they hear the words, "vacation in Mexico." Covid related protocols and personal safety. Resorts, restaurants, and tour operators in Cabo San Lucas takes your health very seriously with extra cleaning and social distancing guidelines. Until recently masks were required in many places although that policy is being relaxed. It's a good idea to take a mask and extra cleaning supplies with you and keep them in a bag or pocket in case they're needed. As far as personal safety goes, while you should take the normal precautions (be aware of your surroundings, keep valuables in a safe, money and wallets in deep pockets, etc.), there has been a 90% decrease in violent crime and you will feel safe in Cabo San Lucas.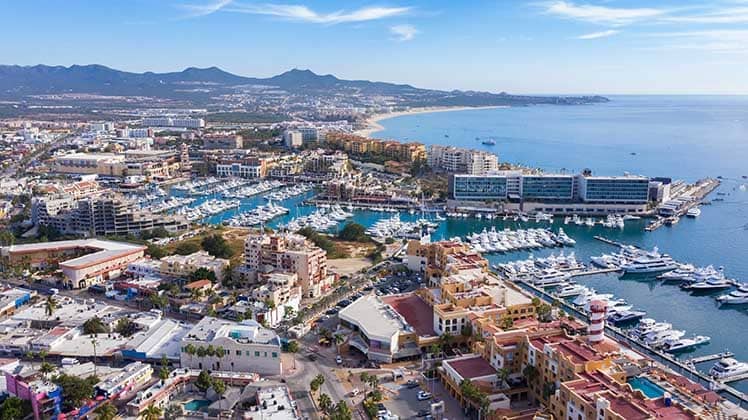 Related: Cabo San Lucas Travel Guide: Sightseeing, Hotel, Restaurant & Shopping Highlights
Take a 3-hour completely customizable cruise tour for your group of up to six people and see Cabo San Lucas from the deck of your own private boat! The captain will create the perfect itinerary with time to see El Arco de Cabo San Lucas, the sea lion colony, lovers beach, and more. Since the boat is stocked with snorkeling gear, floatation devices, and chilled drinks, you'll have everything you need for a morning or afternoon of exploring. Learn more
Take your group of up to four people on an all-inclusive fishing trip through Cabo de San Lucas. Choose either 5 or 8 hours aboard "Blue Tail" and let the crew take care of everything. Arrive, get on, and come home with a big marlin! Learn more
Prepare an authentic Mexican meal during a half-day cooking class in Cabo San Lucas. Shop for fresh ingredients at a local market, then cook alongside a local chef as you learn the techniques and recipes of Mexican cuisine. Many classes are small which gives you personalized attention and makes for a fun experience that ends with a hearty (and hopefully delicious!) lunch. Learn more
If you love taking pictures, take a photo tour through the most photogenic locations in the city, often away from the typical tourist trails. Benefit from a guide who will help you perfect your photographic skills. During these tours the guide helps you create a work of art, rather than just taking a snapshot. Learn more
No trip to Cabo is complete without a tequila tasting adventure! Get the most out of your vacation with a 6-hour tour that combines shopping and a tequila tasting with a sunset dinner cruise. Take in the views of the Pacific Ocean while you feast on a delicious barbecue, enjoy live entertainment, and unlimited drinks from the open bar. Learn more
With these five fun things to do in Cabo San Lucas, you'll be on your way to a memorable vacation in a beautiful destination. Need help planning the perfect vacation? Use the contact form or call Joel (844-483-6669).