Sailing on Virgin Voyages is a fantastic experience in part because they don't nickel and dime guests for everything, take for example the restaurants, including fine dining options which are all included in the cost of the cruise. On the mermaiden (inaugural sailing) voyage of Scarlet Lady there weren't enough days to eat at all the fine dining restaurants — fortunately I'll be back on Scarlet Lady soon. For guests with food allergies or special dietary restrictions and requests, each of the restaurants has vegan, vegetarian, and gluten free options. While every meal comes with a question, "Any food allergies?" the kitchens are great at adjusting individual meals or making other suggestions to accommodate allergies, but the kitchens are not allergen-free environments.
Related: Joel's first impressions of Virgin Voyages Scarlet Lady
Related: Five Things To Know Before Booking A Virgin Voyages Cruise
There are six what I consider fine dining restaurants on Scarlet Lady: Gunbae Korean BBQ, Extra Virgin, The Wake, Test Kitchen, Razzle Dazzle, and Pink Agave. Each of these restaurants — experiences — would be a premium dining option on the other major cruise lines. For Virgin Voyages, they are all included in the cruise fare, and they book quickly so when you're sailing Virgin Voyages make sure you make your reservations — which are required — as soon as possible (15 days before sailing). As of October 2021, they're restricting sailors (guests in Virgin Voyages language) to one reservation per restaurant for each sailing. Fortunately many of these fine dining options have brunch available and the reservations are much easier to get.
Related: Casual, no reservation food options on Scarlet Lady
Related: Virgin Voyages Drink Packages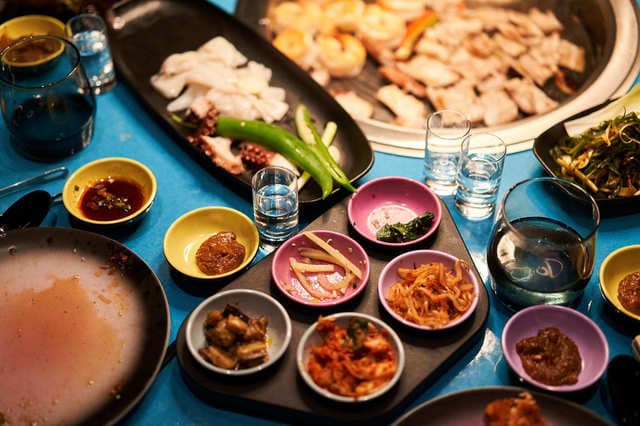 Fine Dining: Gunbae Korean BBQ
Gunbae was a great experience in every way. We were seated with a group of six others (8 total) at a table with a small cooking surface in the middle. Our server offered to let everyone order off the (virtual) menu but suggested we would have a better experience if we let her bring us the most popular items. The flavors of each "course" were big and bold, and although the first few plates were small servings, the main course was larger and at the end everyone was satisfied. Nobody at our table was thrilled with the idea of being in charge of cooking for everyone so our server stepped in and prepared everything. Gunbae reminded me of the best land based fine dining restaurants — our server explained these unfamiliar dishes and flavors so thoroughly, with enthusiasm, and caused us all to try things we wouldn't ordinarily eat. This was not a quick meal — we were there for nearly two hours — but it was an unforgettable evening.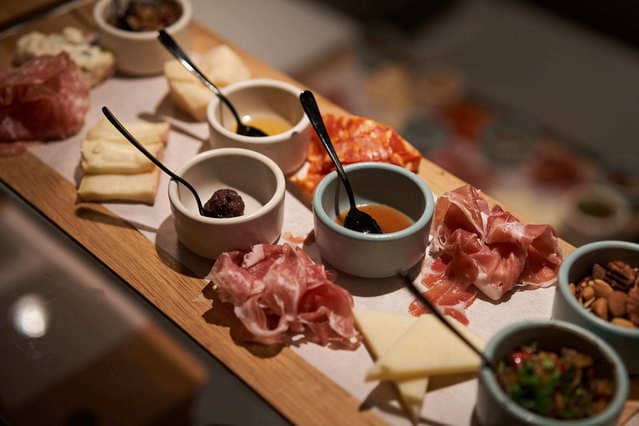 Fine Dining: Extra Virgin, Italian cuisine
Extra Virgin specializes in classic Italian with a twist. We shared a charcuterie board (pictured above) which was suggested by our server. The antipasto menu has a lot of options, but I had heard from other guests onboard Scarlet Lady that meatballs should be at the top of the "must have" list (it was also confirmed by our server). The main course has something for every taste and what I had (a porcini rubbed New York Strip) was delicious — in fact it was as good as the steak I ate at The Wake. The main part of the meal was delicious and the handmade pasta was a great addition to my meal but an easy to overlook component of this fine dining experience was the crew who were attentive, fun, and very personable!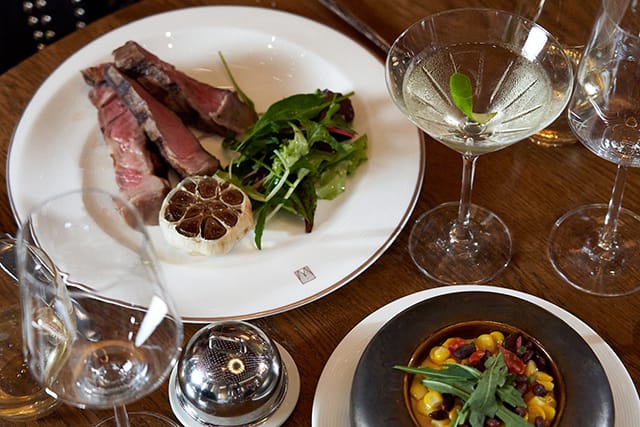 Fine Dining (for carnivores): The Wake
Pre-cruise, The Wake was the fine dining meal I was most looking forward to. The ambience was spectacular, soft music playing, tables set beautifully, and what I imagine steakhouses would have been in the days when a multiple cocktail lunch was just another day ending in "y" but without the cigar smoke. The vibe just screamed have an "old fashioned, Joel," so I listened. We began our meal with a delicious wedge salad, chose our steaks, and most important (to me, anyway) the potato side dish — hello, twice baked potato! Dessert was an Apple Tatin for me and what looked like a delicious Meyer Lemon Cheesecake. The service was impeccable, and the food was… Good. It didn't wow me like some of the other fine dining options, but you can bet I'll be back the next time I'm on the Scarlet Lady.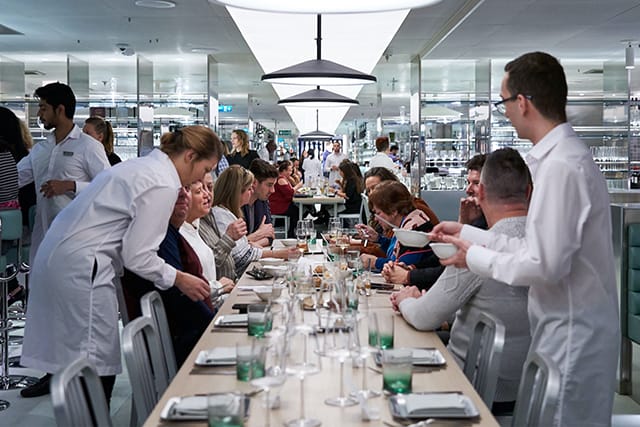 Fine Dining: Test Kitchen which was untested by me (this time)
Test Kitchen, according to Virgin Voyages, is where food meets science. It's part cooking school, part eatery; a cross between educational, experiential, and social. Judging by the mixed reviews I heard from sailors who did choose Test Kitchen as a fine dining meal, the menu and flavors are geared to those who are willing to push the boundaries of flavor profiles. One thing was consistent in the opinions of people I spoke to: Test Kitchen was a fun evening and a great experience.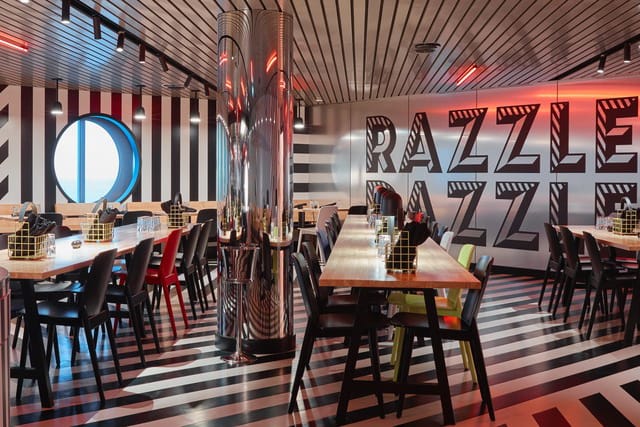 Fine Dining (for herbivores): Razzle Dazzle
Razzle Dazzle is another fine dining restaurant I didn't get to, partially because when I was making reservations there weren't enough days and partially because I'm a self-proclaimed carnivore and a vegetarian meal is not my idea of a meal. Razzle Dazzle does have a "naughty list" for sailors who are less concerned about eating healthy. The "nice list" has plant-based vegetarian dishes and the "naughty list" includes meats, sweets, and treats. There is also rumored to be a "really naughty list" that's not on the menu — but I'll find out what's on it when I'm onboard.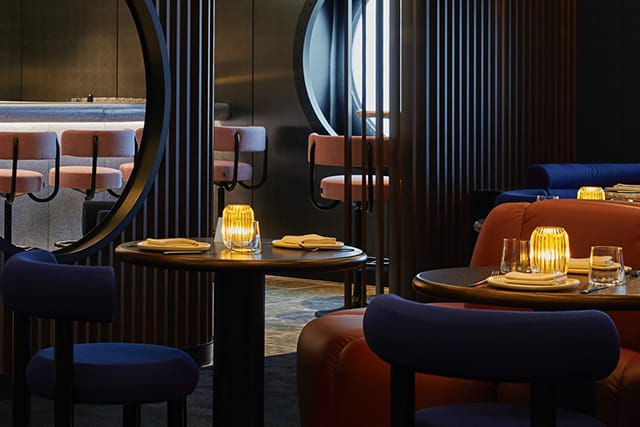 Joel's Favorite Fine Dining: Pink Agave
Pink Agave, what Virgin Voyages labels "elevated Mexican" was spectacular. It's an intimate venue inspired by the street food scene. From beginning to end, our server had great recommendations, was full of great information about each dish, and the meal exceeded every one of my expectations (including the margarita). When you eat at Pink Agave make sure you check out the Mezcal (of which there are LOTS of choices) and cocktails and are an important part of the experience. Joel's tip: order the guacamole and esquites (grilled corn) which are both delicious. You'll be thrilled with whatever you order from the dinner menu but make sure you leave room for dessert.
Ready to plan your next Virgin Voyages cruise? Call Joel (844-483-6669) for free advice, information, and assistance.