Adults and adults with kids will enjoy a high level of luxury and ambiance in beautiful tropical settings. Like Secrets (Dreams Resorts & Spas sister brand), you'll love Unlimited-Luxury where everything is included: suites with stunning views, 24-hour room service and a mini bar that's refreshed daily. You'll find daytime activities and nighttime entertainment for every age and interest, and multiple gourmet dining options and exquisite bars serving premium brands.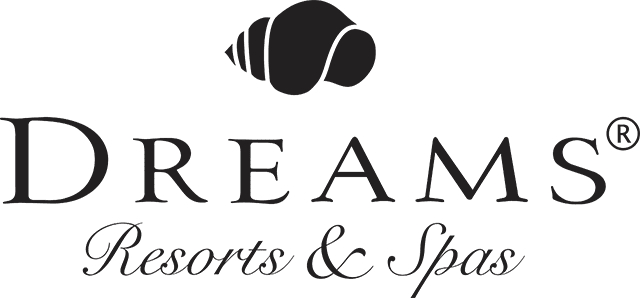 From the moment you step on the resort you'll believe this is what home should always feel like… If home was on a luxurious beachfront in Mexico, the Caribbean, Central America, or Europe; had stunning views and crystal clear pools; and had staff who wanted to cater to your every whim and pamper you at every opportunity. At Dreams Resorts & Spas you'll experience first-hand a picture-perfect getaway for you and your family. Welcome to your home away from home.
Dreams Resorts & Spas around the world:
Columbia
Costa Rica
Curacao
Dominican Republic
Greece
Mexico
Panama
Spain
Bulgaria
Portugal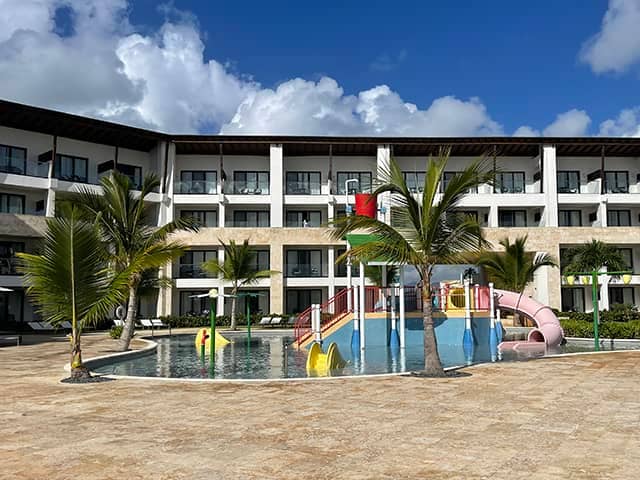 I mentioned the all inclusive nature of Unlimited Luxury but it's important to understand the value you're receiving when you stay at Dreams Resorts & Spas. Unlimited food at multiple restaurants which include full service options that serve delicious gourmet meals featuring cuisine from around the world and casual buffet options which also have great tasting food and are perfect for breakfast and lunch (they're open for dinner, too, but I love the buffet options for a quick, delicious bite to eat). Hand in hand with the restaurants are the drinks which are served within the restaurants but also at various lounges and stand alone bars which are spread out across the properties. Top shelf liquor for the adults, and a variety of juices and soft drinks for the kids (and anyone else who wants them) are also included and bottomless. Each lounge and bar has it's own personality and drink offerings which you can order directly from the bartender or from a member of the wait staff who love bringing you drinks by the pool and on the beach.
Reliable (and remarkably fast) WiFi is also included under the all inclusive umbrella. Which will come in handy when you're trying to send envy inducing pictures and videos to your friends and family back home. There's a lot of photo opportunities, too. The views are spectacular (oooooh, those sunsets!), the entertainment is fun and engaging for all ages, and it will take you a few tries to get a good picture of your loved ones zooming down one of the water slides.
Dreams Resorts & Spas has thought of everything families might need, like an Explorers club for children 3-12 and Core Zone a club for teens 13-17, and like everything else, it's part of the all-inclusive package when you stay at a Dreams Resort. Younger kids will have access to an indoor game room with video games and crafts plus the Explores will take the adventure out to the beach. Teens can play video games (which may have a small "daily fee"), rock climbing walls, and basketball courts.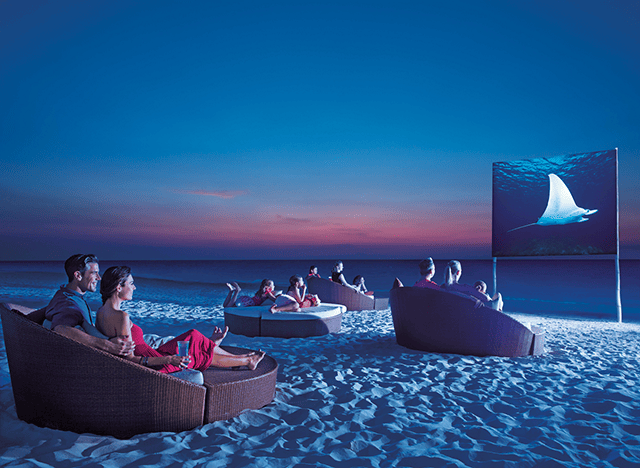 In the evenings, you'll be able to catch a movie on the beach but during the day you'll have the opportunity to float in the pool (there's more than one but you'll find your favorite, trust me), take advantage of non-motorized water activities, head over to the fitness center, or… Ahhh… Visit the spa.
All Dreams Resorts & Spas have, as the name suggests, a beautiful full service spa called Spa by Pevonia.
The spa, is of course, not included in your reservation, but when you're in need of some relaxation, the spa offers body treatments, facials, hydrotherapy, sun beds, and salon treatments (mani / pedi, etc.) for men, women, and couples. This will be money well spent and be one of your fondest vacation memories.
Last but not least, accommodations matter. At Dreams Resorts & Spas all the rooms and suites are spacious and feature impressive amenities like maid service, a mini-bar (with no up charge!) that gets refreshed daily, private and furnished balcony or patio, 24 hour concierge service, and room service (hours may very for room service). A room in the "family section" will have you near the family pools and water parks, while the "adults section" is located in a more, shall we say, peaceful area but still centrally located to the amenities that are important to you.
All in all, Dreams Resorts & Spas provides an amazing experience for adults and families. It's affordably priced and the value is out of this world. These properties are gorgeous and whether its a getaway with your loved one or a family vacation, you'll have countless fun filled memories.