Denali National Park and Preserve is Alaska's number one attraction for travelers who want to see beautiful places in the United States. If you love outdoor adventure, you'll find plenty of activities like zip-lining, rafting, and off-road tours in addition to hiking, camping, and mountaineering but you don't have to be the "outdoorsy type" to be awed by the drunken forest, beautiful mountains, and nature within the park.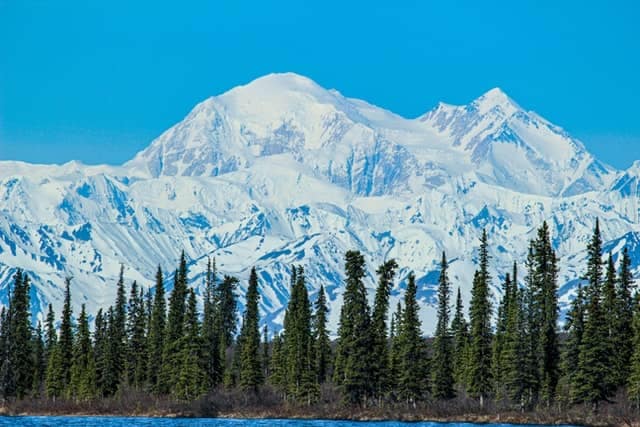 Larger than the entire state of New Hampshire, Denali National Park has only one 92-mile long road and provides beautiful views of swampy forest (known as taiga), wide open spaces of frozen sub-soil (tundra), and mountains. is accessible only by the park's shuttle buses, crosses taiga, tundra, boggy lowlands, and mountain passes. Have your camera ready to take pictures of the "drunken forest" where the trees are tipped at unusual angles due to the seasonal changes in climate.
If you're considering a visit to Denali National Park and you're of a "certain age" you might be surprised to know that the Denali used to be known as Mt. McKinley. Known as the highest peak in North America and the third highest after Mount Everest (Asia) and Aconcagua (South America), Denali, meaning "high" or "tall" got its name from the Koyukon Athabaskan who inhabit the area.

In terms of weather, the best time to visit Denali National Park is late May through early September but if you're hoping to see the mountain, clouds often block the view so Winter is when you should go. When you arrive, you'll need to stop at the visitor center at the eastern side of the park where you'll find an information desk, general store, and some other shops. You'll find tickets for all your tours and attractions, accommodations, and get free permits to explore the backcountry at the Backcountry Information Center which is right near the visitor center.
Your trip to Denali National Park wouldn't be complete without activities that take you through the park. Depending on your fitness level, desire for thrill-seeking adventures, and style of tour you like there are activities like self-guided Jeep adventures, walking tours, or rafting to name a few. Whether you choose one of the numerous activities or get a permit and find your own adventure you'll be doing something extraordinary.
Within the park you can get around using a "hop on hop off" shuttle bus known as the Visitor Transportation System (VTS). Shuttle buses leave the visitor center every 30 minutes and take visitors to Denali National Park to Lake Wonder where you'll have the best view of the mountain. For those that enjoy hiking and want to explore the park, the VTS shuttles have scheduled stops along the 85-mile trek to the lake.
If you're hoping to stay within Denali National Park itself, there are wilderness lodges available but they sell out quickly so you'll need to plan far in advance and should expect to pay more due to the all-inclusive (transportation, meals, and activities) nature of these accommodations. Most visitors choose to stay outside (but near) the park because there is more availability, to limit the cost, and to provide more flexibility in case they choose to take advantage of tours to nearby attractions.