I want to share an intriguing story that involves an element of surprise, investigation, and discovery (OK, that is admittedly overstating it, but come on… I'm​ building drama!) all centered around the cruise ship laundry service. I'll tell you right up front, it's not the usual travel tale you'd expect (especially from someone who's been on numerous cruises.
A Puzzling Discovery
The scenario was as ordinary as it could be – returning from a day full of adventure in a Caribbean port to freshly washed and neatly folded laundry. Having laundry done on a cruise is one of life's simple pleasures. Not only is someone else doing the chore, but ​packing is much easier, and ​extra laundry-free days when I return. I highly recommend it.
It wasn't until weeks later, after having done multiple loads of laundry, that I began to notic​e small tags in all my clothes. About an inch long, with a bunch of random numbers​ printed on them; ​in my socks, under collars, inside packets, by the tags, and even inside pockets. It was like a weird game of hide and seek. I couldn't decide if I was looking at the clue to an unsolved mystery or missing a simple explanation.
Mystery Solved at Sea
​Just about the time I cycled through all the clothes in my closet and drawers and removed all the tags, I went on another cruise. Half way through I sent my pile of dirty clothes to the cruise ship laundry service and you'll never guess what happened. The clothes came back all clean and folded, but again, the little tags were everywhere.
Closer examination made me realize the code imprinted on these tags was the sail date of my cruise and my cabin number. Turns out, they're a clue, but not to an unsolved mystery. These tough little tags tell the cruise staff which room the clothes came from. They're not intruders, they're safeguards.
​Knowing this, I ​have more questions for the cruise ship laundry service workers. What adhesive is used to make them stick so securely? How do they print the ​tags? Who sticks them on every piece of clothing? How long does it take? Do they put clothes from multiple staterooms in each load?
I may never get the answers, and in the end, it doesn't even matter. Every time I go on a cruise that lasts 5 days or longer, I will continue getting my laundry done.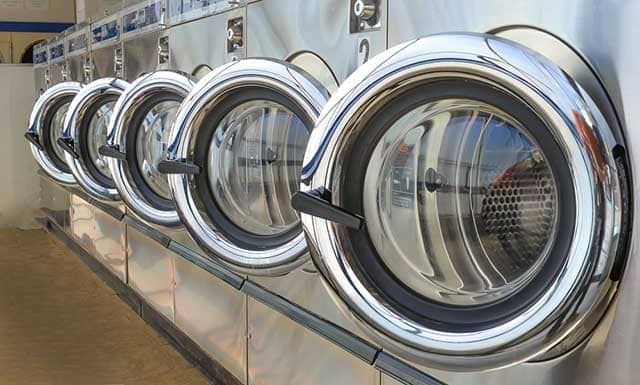 ​Cruise Ship Laundry Info and Tips
​Most cruise lines and ships have laundry service available.
​Some are self-service. I've never noticed self service ​laundry, but I know ​it exists on some cruises.
In most cases, ​except as a loyalty perk, it costs extra
The cost varies and is usually a set price per item
​Most ships have regular and express service. The difference is the time it takes to be delivered back to your room (full of tags).
Your cabin steward, concierge, or butler will take the laundry ​where it needs to go and deliver it back to the stateroom.
​Depending on the cruise line and ship there may be steaming, dry cleaning, and press services. Each will cost more than standard laundry service.
If you are sensitive to different detergents, maybe don't take advantage of the cruise line laundry service. It's only a guess, but I doubt they ​have "safe for sensitive skin" detergent…
… and again, it's just a guess, but if you decide to take your own detergent, they will not use it. However, if you know your cruise will have self service, you can bring your own detergent (or use what they have available)…
Or… Take your own detergent and hand wash everything in the sink. For me, that defeats the purpose, but it's an option.
​Knowing you're going to use the cruise line laundry service, ​pack​ fewer clothes. Your life will ​be easier, potentially save on over weight luggage fees, and eliminate the risk of throwing your back out carrying heavy suitcases. OK, that last bit about ​your back is sarcasm, but seriously, pack ​fewer clothes.
​Have a plan for which day(s) you're going to have laundry done. On a 5-9 night cruise, I pack knowing I'm going to have my laundry returned one or two days before the cruise ends. And I pack accordingly.
​​Take advantage of "special deals" for laundry. Whether it's a discounted flat rate per bag or a percentage off, ​the​ deals are money savers.
​Have a strategy for maximizing the number of items that will fit in a bag. I neatly fold shirts and pants, and roll the rest, but you should do whatever makes the most sense to you.