Today Carnival joined the growing list of cruise lines who are planning to be sailing from US ports in the Summer of 2021. Carnival sailing from Galveston in July on Carnival Vista beginning July 3, 2021 and Carnival Breeze on July 15, 2021 made major headlines but the bigger news was the vaccine requirement.
Carnival has provided clarification regarding the vaccination protocols for people sailing on Carnival from Galveston on Breeze and Vista in July 2021:
The July cruises will operate with at least 95% of fully vaccinated guests who will have had their final dose of an approved COVID-19 vaccine at least 14 days prior to the beginning of the cruise (the exception is children under 12)
Guests will be required to present proof of vaccination at time of check-in.
Vaccines must be approved by either the CDC or WHO (World Health Organization).
Vaccinated guests will not be required to wear a facemask or maintain physical distancing while on board.
Guests will have to follow all necessary local guidance at the destinations we visit.
All Carnival Vista cruises will operate a Mahogany Bay-Belize-Cozumel itinerary.
The CDC's guidelines for operating a highly vaccinated cruise provide the ability to accommodate a small number of unvaccinated guests (children under 12 who cannot be vaccinated and exemptions as required by federal law) on restricted voyages, based on the total number of vaccinated guests on board.
Carnival plans to accommodate a small number of exemptions. Such guests are being asked to put their names on our list (online submissions only) for follow-up communication. There will be testing, mask requirements and other restrictions for unvaccinated guests who are granted an exemption.
Guests who determine the time is not right to sail may rebook for a later date if the request is made by June 14.
The vaccine requirement for guests wanting a Carnival sailing from Galveston is straight forward, even if it's controversial. All guests aboard these sailings must be fully vaccinated defined as at least 14 days after the last dosage of a CDC-approved Covid-19 vaccination. All guests means children who are too young to be vaccinated are not going to be allowed onboard. While other cruise lines have made exceptions for younger children, Carnival is — I believe — taking a big risk of alienating their core market: families with young children. They're defending this decision with the following statement:
We appreciate the progress and support for our U.S. restart from the CDC and other key federal agencies; however, the current CDC requirements for cruising with a guest base that is unvaccinated will make it very difficult to deliver the experience our guests expect, especially given the large number of families with younger children who sail with us. As a result, our alternative is to operate our ships from the U.S. during the month of July with vaccinated guests.

Christine Duffy, President, Carnival Cruise Line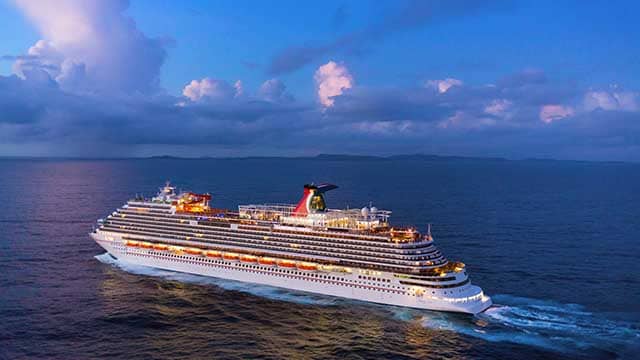 The decision to require guests to be fully vaccinated in order to be on Carnival sailing from Galveston seems to have made more noise than the actual announcement of Carnival cruises returning to US ports. Message boards and comment sections have been very active with people on both sides of the "vaccination required" argument.
If you have questions or are ready to begin planning your next vacation call Joel (844-483-6669) for unbiased information and assistance.