I spent 4 days at Breathless Cancun Soul in September 2023 and I'm not their ideal guest but it is a beautiful, clean property. Breathless is adults only and everything about the property caters to singles, young couples, and groups of friends ages 25-35. If you don't fall into those categories, there are much better options for all-inclusive resorts. Call me and I'll help you find one: 844-483-6669.
If you are 25-35 and are looking for a good time, Breathless Cancun Soul is a great option, but there are some things you need to know because there are some things that are important to you and it's important to know whether this all inclusive resort will deliver you the amazing experience you deserve.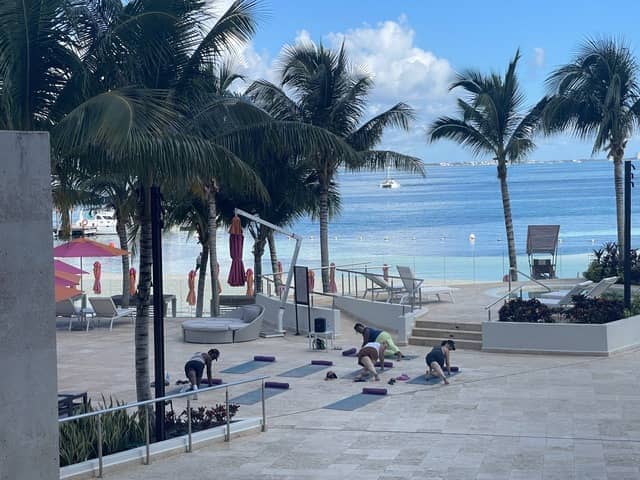 What is there to do at Breathless Cancun Soul Resort and Spa?
Drinks are plentiful (and delicious) and theme parties go into the early morning hours. For the sake of clarity, themes refer to the way the venues are decorated. During my stay the parties were When in Rome, Asado, and Flower Power. I didn't go to any of them but I could see (and hear) them from my room. Each of the parties featured a mix of DJ's and live entertainment, and theme drinks.
What I love about travelling is experiencing other cultures and learning about history from other perspectives so I found the evening entertainment particularly interesting because at Breathless Cancun Soul all the parties and evening entertainment showcase the arts. From music and dancing to paintings, sculptures and fashion, you will have a deeper understanding of how important the arts are to the local culture. Hopefully you're able to remember it all after drinking the "magic water" (tequila!) that seems to just show up wherever you are on the resort.
Since the parties and night clubs keep guests busy into the wee hours of the morning, it's no surprise that the mornings are pretty quiet around the property, but there were group classes outside in the main area. Pictured above is the yoga class, there's also stretching and movement classes, aquaerobics, volleyball on the beach (and in the pool). There's also some trivia games, dance classes, and even Spanish lessons. In short, if your idea of fun is taking part in activities, you'll have no problem finding things to do.
What Restaurants Are at Breathless Cancun Soul?
If food is moderately important to you, you might be disappointed. I'm not a foodie and I found the food good at best and in most cases just OK. What I found most disappointing was seeing "specialty restaurants" that I wanted to dine at only to find they're only open a couple days a week. I stayed at Breathless Cancun Soul Wednesday – Saturday morning and there were a number of restaurants I that weren't open any of those days.
I did eat at Silk City which features Pan-Asian cuisine and has a spectacular view. The menu has lots of options including sushi, wontons, and egg rolls as appetizers, which were all very tasty. My main entree was pad thai with chicken which was delicious. Not surprisingly, the portions were relatively small but filling and satisfying, and there was an option to purchase (overpriced) bottles of wine and liquor. All in all, the restaurant was a win, and although there won't be any Michelin stars handed out, you'll be happy you ate here.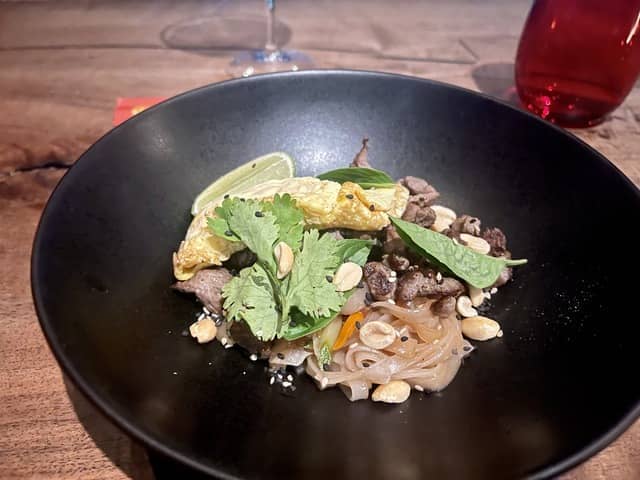 I also ate at Fish Nets, which you'd think is a seafood restaurant (and you'd be partially correct). When this restaurant is open for lunch, it serves seafood. For dinner, you'll find a variety of steaks, chicken, and bbq ribs. My dinner, which began with grouper ceviche and "meat in its juices" (which was the most delicious beef broth I've ever had), a beautifully cooked New York strip and mashed potatoes, and a delicious strawberry sponge cake with strawberry compote and strawberry ice cream (which all turned out to be raspberry) was the best dinner I ate during my stay at Breathless Cancun Soul. And, as always, the service was top notch — Luis was fun, engaging, and understood the assignment: keep my glass filled with "magic water" (which, he said with a smile, "may remind you of tequila.")
As far as the rest of the food goes, there's a buffet, Spoon, which serves breakfast and lunch. There are a lot of choices, you'll find plenty of things to eat, but with most buffet restaurants, it's hard to keep the food fresh and hot. The made to order items were very good, though. If you're able to roll out of bed on the early side (breakfast begins at 7) you'll have no difficulty getting a table and there won't be any lines. Should it take a little longer to get going in the morning, know that everyone else is getting breakfast at the same time and you'll likely have to wait for a table.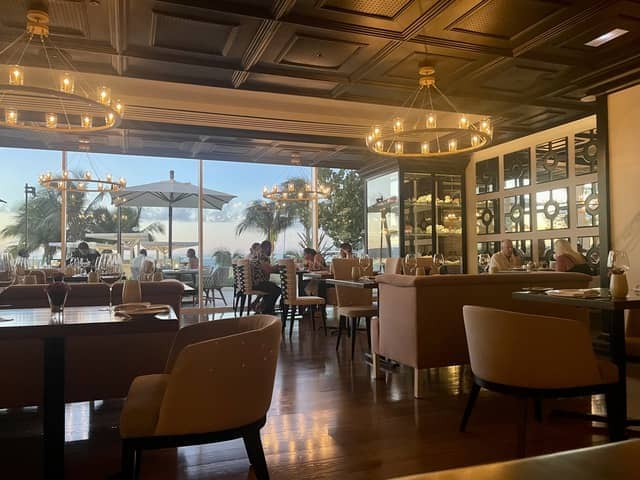 Other notable places to eat are Barefoot Grill which serves pizza near the Energy pool for between 12 and 6pm (and 11pm – 2am on Fridays), and Bare Buns located by the Xcelerate Infinity pool on the rooftop. Bare Buns serves burgers, hot dogs, and nachos. The burgers are a top contender for the best thing I ate at Breathless Cancun Soul. Bare Buns is open 12-6pm every day.
How many pools are there at Breathless Cancun Soul?
The short answer is three. Energy, Xcelerate, and Xhale Infinity. There are also hot tubs near the Energy and Xcelerate pools. Xhale is a private pool and area for guests staying in the Xhale Club. The pools are where you'll spend most of your day. They're beautiful. By far the best reason to stay at Breathless Cancun Soul because the beach? Not so much.
Since I'm old, I spent most of my time in the Energy pool which ironically, is the more peaceful of the two I could use (I wasn't in an Xhale suite). it's a large pool with enough lounge chairs that you'll never have to worry about getting one. Here is where you'll find aquaerobics, pool volleyball, and ring toss games.
I did wander up to the Xcelerate pool for about 30 minutes because, well, the burgers. And there was a lot of room to sit in the shade with my laptop. The pool area itself has a lot of "cabanas" that are available for purchase ($200 each and included a bottle of champagne). The pool isn't as big as the Energy pool, but the infinity aspect of it is really nice and provides a very nice view of the ocean. Xcelerate is where the party is. There's a DJ and dancers, the music is loud and the people are… having a good time.
I used to tell the old people, "if it's too loud, you're too old." I'm apparently old.
All in all, if you're in the late 20's to late 30's range and enjoy a party like atmosphere, Breathless Cancun Soul should be on your short list of resorts in Cancun. Ready to plan your all-inclusive resort vacation? Call and I'll help you find the perfect resort that meets all your vacation criteria. 844-483-6669.