What's included in all Included on Celebrity cruises is about to change. Whether or not it's a win for guests remains to be seen, but like grumbling about the trade your favorite team made or the retailer you can't pass by discontinuing your favorite item, complaining isn't going to change things at Celebrity. The best you can do is know what to expect and make an informed decision about which cruise line is going to give you the best experience.
Drama in the travel agent world (and probably cruise related forums and groups) began the last couple days of August 2023 when a post by an anonymous frustrated Celebrity employee made some claims about the current level of service and upcoming policy changes. Essentially, the complaints are that for a cruise line that brands itself as premium, the itineraries should be better, the ships staffed better, the food options consistent, and everyone should be welcomed onboard. And the big bombshell was that all included on Celebrity cruises was going to change — gratuities are going to be an extra charge.
I'd like to focus on the gratuities. Personally, I like having gratuities included in the price of the cruise because it feels like a better value and lowers my frustration with being nickel and dimed. Death by a thousand cuts is not my favorite thing about cruises. Include it all, I say, don't sell me on a price then come at me with extra costs for the things virtually everyone adds to their reservation. I'm looking at you, WiFi, gratuities, and drink packages. Guess what, whether those things are included in the cost of your cruise or not, you're paying for them — it's just more palatable to pay a set price and have them included… and easier to budget, too.
What is Included with All Included on Celebrity Cruises?
All Included pricing can be applied to Inside, Ocean view, Veranda, Aqua Class, and Retreat staterooms. Reservations made before October 4, 2023 qualify for the original version of all included which was drinks (classic or premium based on the stateroom category), WiFi (basic or premium based on category), and gratuities.
All included on reservations made on or after October 4, 2023 still qualify for drinks and WiFi but pre-paid gratuities will be an additional cost. Celebrity is spinning the decision to take gratuities out of the all included rate somewhat truthfully, even if optimistically (which I guess makes sense if it's a spin). They're saying it's based on research that says most people don't want pre-paid gratuities automatically, and that the WiFi and drinks are the big benefit people get excited about. They're also saying, accurately, that the savings is still $200 – $800 per person over the cruise only rate.
Related: Find Your Next Celebrity Cruise
Even though that's the spin, I can't imagine it's 100% true. I refuse to believe that most people would choose to pay extra for gratuities in the name of control. The claim is, people want to choose whether or not to add gratuities to the reservation in advance and choose to either add them once onboard the ship or decide on their own who and how much to tip instead of paying a flat rate per day and letting Celebrity distribute the money using the amounts negotiated by the cruise line and crew. No matter how I look at it, one way the gratuities don't cost me anything extra and one way it does.
All Included on Celebrity cruises: Wifi and Drink packages
Earlier I mentioned two levels of drinks and WiFi based on the category of the stateroom. All guests sailing in Inside, Ocean view, Veranda, Concierge, and Aqua Class staterooms who choose all included pricing are entitled to the Classic drink package and basic WiFi while all guests sailing in a Retreat stateroom qualify for the premium drink package and premium WiFi.
What's the difference between the classic/basic and premium? The Classic beverage package includes drinks that cost under $10 and includes a variety of classic cocktails, beer, and wine, specialty coffee, juices, and basic bottled water. Premium includes the same things as classic but with premium brands and drinks that cost up to $17. It also includes smoothies and premium water (like Evian and San Pellegrino). A couple of important notes about the drink package, guests under 21 will not be served alcoholic beverages but have access to all the non-alcoholic options; and anyone can upgrade to premium for an additional cost per day before the cruise or once onboard.
Basic vs Premium WiFi has nothing to do with the amount of data or minutes like it does with NCL Free at Sea WiFi it's unlimited for everyone in the room. Basic WiFi is great for email, browsing the internet, and messaging. Premium includes video messaging and streaming. Like the drink package WiFi can be upgraded pre-cruise or once onboard.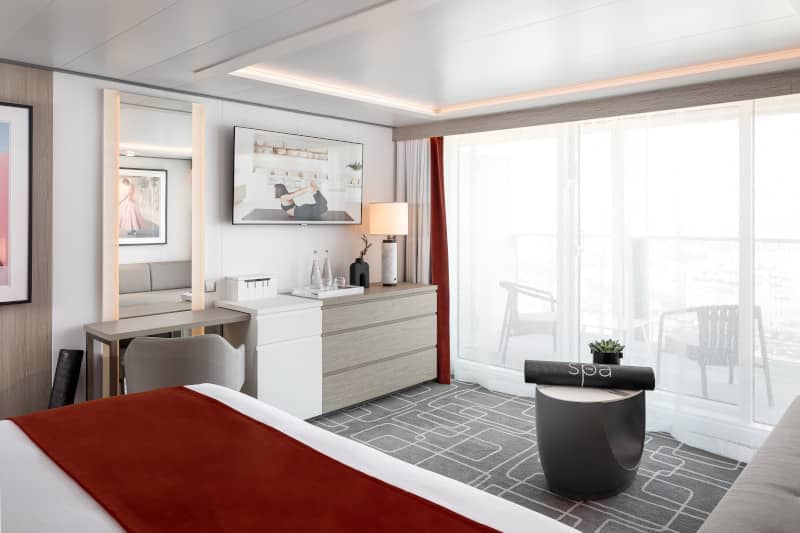 As mentioned above, all included on Celebrity cruises Retreat staterooms include premium drinks and premium WiFi but reservations on or after October 4, 2023 will not include gratuities. Changes to what is included do not impact the other benefits of staying in the Retreat include beautiful staterooms, a private restaurant, private sun deck and lounge, plus a dedicated team of attendants who will elevate your cruise experience.
Should you book all included on Celebrity cruises? You have options
All included or cruise only (sometimes called no perks), the choice is yours, and which I recommend depends on the number of drinks you're going to consume per day. The price for drink packages is variable not a set price but as a rule of thumb, if you're going to have 7 drinks a day, and/or drink a lot of bottled water, book the all included rate. Seven drinks in a day may sound like a lot, but there are a lot of opportunities to have a drink when you're in vacation mode. WiFi is a less expensive purchase so if you're not going to take advantage of the drink package, the cost of the WiFi as an add on is less expensive than the all included rate.
In conclusion, Celebrity can spin this change any way they like. Whether the pitch is more flexibility for guests, listening to what their guests want, or being able to provide a better overall experience, the fact is, like all vacations, solving your vacation equation is critical to have the best experience and get the best value.